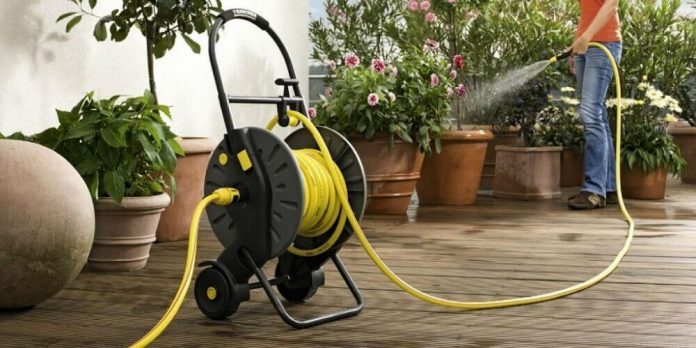 Gone are the days of watering pots, especially if you have a big garden with loads of plants, grass, and flower beds. No one wants to spend hours watering their garden using watering pots. Thankfully, garden hoses are here to help us do all that quickly and easily. But, if you own a garden hose, you need a good garden hose reel too.
A good garden hose reel will make your gardening experience so much better. Not only will your gardening become easier, faster, and more efficient, a garden hose reel will make your garden look neat and tidy because your hose will no longer clumsily sit in the garden. The good thing is that you can now buy garden hose reels that come with their own hoses of different sizes and a 9-mode nozzle. 
In this article, we are going to talk about THREE things you should look for in a garden hose reel before buying one. And by look for, we mean these THREE things are essential features of a good garden hose reel.
Durable:
The whole point of a garden hose reel is to protect the hose from wear and tear caused while using it, trying to wind it up, or accidentally running the lawnmower over it. If a hose reel itself isn't durable enough, how would it protect your hose?
So, make sure the garden hose reel you choose is strong and durable enough that it can handle the wrath of the climate all year long to protect the hose from hot and cold temperatures. To make sure the reel you choose is durable, you should look for a garden hose reel that is made from steel and has a coating to protect against rust.
Maneuverable:
You should buy a garden hose reel that is easy to maneuver and move around so you can easily move the hose all around the garden. A maneuverable hose reel will protect your hose from kinks and creases.
A maneuverable hose reel could mean a movable hose reel with tires on the bottom or a wall-mounted hose reel with a swivel disc. A wall-mountable garden hose reel with a swivel disc is a better choice as it will keep the garden hose reel dry, and you won't have to push it around the garden.
If your garden area is too big, then a hose reel with tires would be a good choice too. Connected to a spigot from one end, you will be able to move the hose reel closer to all the plants and by moving the hose reel itself instead of having to unwind the whole of the hose itself.
Easy Retraction:
A garden hose reel protects your hose from a lot of things, but its main purpose is to make your gardening experience easier. One difficult aspect of gardening is draining and winding up the hose after watering the garden. If you are not careful while winding up the hose, you might end up with kins, creases, and permanent damage to the hose.
The advantage of a good garden hose reel is that it will have a self-retracting function to automatically retract the hose inside the reel with the press of a button. A stable self-retracting system will securely retract the hose inside the reel without any kinks or damages. While retracting, the hose will drain itself too, so with the right hose reel, your work decreases by half.
Conclusion
Buying the right garden hose is not enough. You need t make sure you take good care of the garden hose, so it lasts long. So, you need to buy a good garden hose reel as well. We hope the information in this article will help you choose the best garden hose reel for your needs.