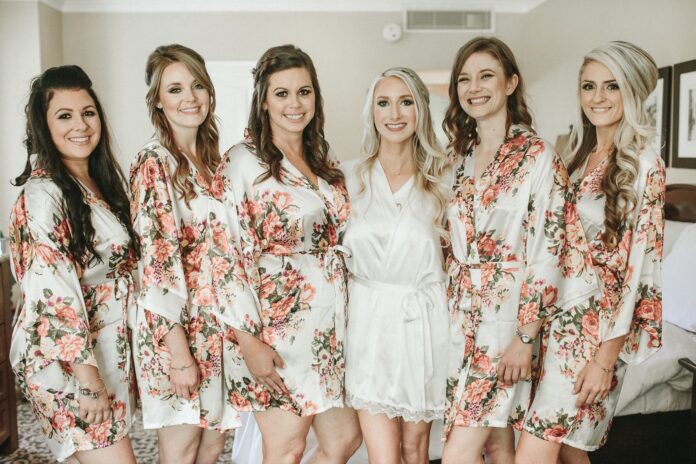 Now that bridesmaid robes are becoming more and more popular, brides use them not only for bridesmaids at their wedding but also bridal showers, bridal luncheon, bachelorette party, and other bridal events. Brides who love this idea of bridesmaid robes often spend hours looking through different websites for something stylish yet reasonably priced. They want their bridesmaids to look elegant in the pictures while keeping the budget in mind too.
While selecting a robe for your bridesmaid, several things should be kept in mind. In this matter, this article will help you greatly. So, read it till the end. Let's get rolling!
Types of Bridesmaid Robe
Spa robes
These are the most popular robes at wedding events. These robes are usually made out of cotton, and they have a loose and comfortable fit. The amazing feature about these robes is that they have a standard size that fits all.
Wrap robes
wrap robes are made out of light material such as polyester. Sometimes they are made out of acetate and rayon, which wrinkles easily and needs dry cleaning often. These robes are more tailored than spa robes.
Kimono robes
Kimono robes fall in the category that is between spa and wrap robes. Length-wise, they stop just above the knees. The size of the sleeves is more than the elbows, and they are loose.
What to look for in the robe?
When you're a bridesmaid, one of the most important things to look for is a robe that will be comfortable and flattering while also being long enough. It's best if it has pockets too! Below are some features outlined for you so you can find your perfect fit.
Design
Simple is boring, so choose something detailed and aesthetic. Make sure it has pockets and a belt to increase the comfort level. You can also get these robes customized and add some monograms on the back or front.
Color
The color is a major factor while picking a bridesmaid robe. The color of the bridesmaid robes should complement the robe of the bride as well as the décor and theme of the wedding party. Make sure that the color you choose should look stunning in pictures.
Fabric
Comfort should be the priority while choosing an outfit. So, choose a soft and light material, which is loose and an easy fit for all.
Price
The price of the robe is an essential factor while buying a robe. Make sure that you are getting what you're paying for. A high price does not always mean that the stuff is good. You can buy in bulk or go for discounted items to save some money.
Length
You should always check the length of the robe while buying or ordering. A longer robe is not a wise choice, nor a really short one. The robe should be medium-sized, just a few inches above the knees. Also, know what your girls are comfortable wearing. Happy friends is a happy wedding.
Conclusion
Finding the perfect bridesmaid robes is no easy task because you've got to keep certain things in mind while browsing for the bridesmaid robe like; location, theme, weather conditions, etc. You want to find something that your friends will love and wear again – not just once for a wedding, but also on other occasions like girls' night out or formal events where you need to look great!